In 1970 a musical phenomenon would begin to form that would change music history forever. The Polydor years are Mandrill's formative years. Carlos, Lou and Ric Wilson, Claude Coffee Cave, Omar Mesa, Bundie Cenac, Charlie Padro, Fudgie Kae, Neftali Santiago and Doug Rodrigues.
The Mandrill sound took all ten members to create. Much props have to be given to the Wilson brothers for not wanting to be "The Wilson Brothers Band" but actually be a part of a band. A band that voted on group decisions. One that shared equally. One that would be it's own family, "The Every Growing Mandrill Family".
The Mandrill sound evolved very quickly with each Polydor album. There was a clear focus to keep evolving musically into a band sound that would be our own. One that would captivate the world. Any music after the Polydor Years failed to produce the success Mandrill had on Polydor.
On the first three albums you hear the sound evolve. Charlie coming up with the "Mandrill" drum beat very cool! The band still opens every show with "Mandrill". Bundie was great for the first album. His bass on "Rolling On", "Peace and Love", "Chutney" was brilliant! Well, Off went Bundie after the first album, he didn't really believe the band was going to go very far.
"Mandrill Is" would have never sounded the same if Bundie was on bass. Fudgie didn't just bring great bass and creative song writing, he brought a signature bass style that should be studied and taught to up and coming bass players. "Mandrill Is" is a musical masterpiece. Charlie's drumming is excellent on the entire album!
The band was on a mission to incorporate more Funk to the multi genre mix and that's where I come in. "Composite Truth". The drummer, the heartbeat of the Mandrill sound, "Mr Moto", "Fat Rat", "The Foot". It had to be me on drums:) When the seven of us took to recording and as specially live performance no one on planet earth could touch us, Extremely unique and still hold the title of "The Kings of Multi Genre" fitting in with all artists on stage.
"Just Outside Of Town" was very interesting because it introduced a few firsts for the band. Omar Mesa decided to leave the band at the peak of our career. Omar gave a two month notice to Mandrill in order to not hang them up and for them to be able to start rehearsing with a new guitarist.
Omar: "What I found out was that the artwork for the album was done long before the album came out, so I was told that my photo was ALREADY on the cover and that I should play on the album. On prior records we all got to compose at least one song for the albums, so we agreed that I would add "Aspiration Flame to the record". All the great work he laid out with Mandrill on the first three albums would come to an end. Omar was following a spiritual path becoming a disciple of Sri Chinmoy. Omar agreed to tour with us thank God! Recording wise It showed the band what we could do without a lead guitar player. I wrote my first two songs both making the album. "Two Sisters Of Mystery" and "Never Die". Both songs featured me on lead vocal. I hated listening to myself out of tune, Wow! Two Sisters is about my two sisters Norge and Peppy and the Never Die about my girlfriend Marcelina. We just dug into who we were musically and hired a guitar player to fill in on solos. The album mainly featured Carlos Wilson on rhythm guitar.
We still needed to fill Omar's slot and we wanted to go deeper into the Funk when fate brought us Douglas Rodrigues. Once more Mandrillland would have been completely different if Omar was in the band. Both Omar and Dougie were excelent with Mandrill and thier guitar playing is
So there you have it. All ten members on the same journey with each playing his roll in the Mandrill sound.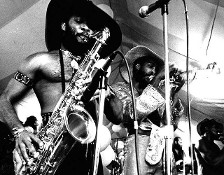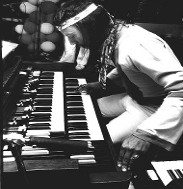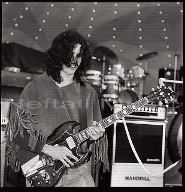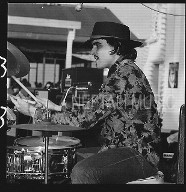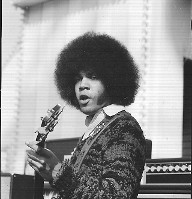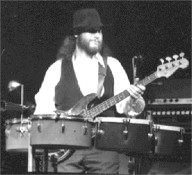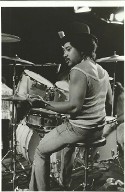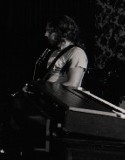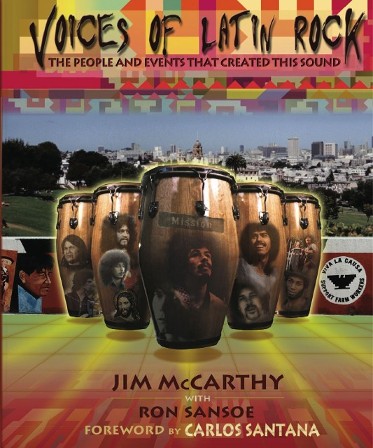 Neftali met Jim Mc Carthy very close to completing his book about Latin Rock history. We developed a telephone bond and Jim felt Mandrill should be included. I went into my photo chest and pulled out some classic Mandrill shots for him. Jim's interview was the first to want to tell the complete Mandrill story. Neftali: "I am proud to call Jim my friend. This book should be in every music history class".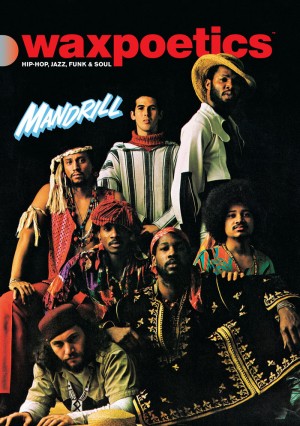 The Beast from the East
Mandrill's Afrikus Retrospectus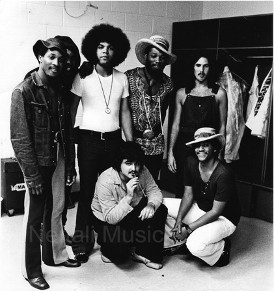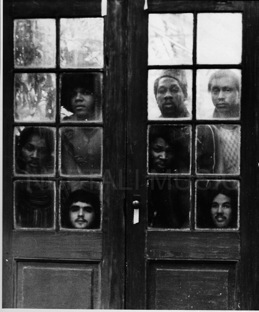 "When the great Roy Ayers lived next door to me up at 150th and Broadway, he'd say, 'Yo, Lou, you got too much stuff in one song! Could I just borrow the second movement?' " –Lou Wilson
Once upon a halcyon time, when bands branded by single-word names and controlled by uncontrolled substances besotted the pop music charts, there lurked a uniquely sonic beast. Distinguished by its uncanny shape-shifting abilities, the creature was a musical omnivore, dieting on the diverse crops planted by its West Indian, Central American, and African forbearers, all the while growing stronger tussling with its New World peers. Stamped with unmistakable colors and rippled with muscle, it was never afraid, leaving instead fear and wonder in its musical wake. And though other animals that it had once big-brothered along its creative journey would eventually surpass it in fortune and fame, no one could ever forget this remarkable beast from the East. Or could they?
"We knew there was nobody tighter. We were killers. It wasn't arrogance—just something that comes from being prepared." –Claude "Coffee" Cave
Mandrill was nothing if not bold. Formed by a trio of Panamanian-born, Brooklyn-bred transplants, the Brothers Wilson Lou, Ric, Carlos1 and their classically trained prodigy neighbor, Claude "Coffee" Cave, Mandrill was quintessential jam long before the term "jam band" became pejorative slander in certain circles and thick commercial in others. They were physically imposing and had, similar to their Parliamentary peers, honed their eclectic,
powerful chops in a beauty salon. Their original grooves (the band never recorded a cover) were no flavor of the month, and instead feasted on anything tasty. Rock, jazz, doo-wop, psychedelia, calypso, marching band, blues, Latin, classical, and funk wouldn't just be heard at a Mandrill concert but often heard within each song. This meant you could put them on a bill with Deep Purple or Mott the Hoople, Miles Davis or Buddy Miles, Osibisa or Sha Na Na, Duke Ellington or James Brown. No matter the setting sweaty clubs like Fillmores East and West, concert halls like Philharmonic and Carnegie Hall, or stadium crowds six digits strong they'd, by all accounts, turn the motha out.
"There was a time when Earth, Wind and Fire played before us; they'd come on and rock the audience, and we'd have to follow that. Or War would rock the audience, and we'd have to follow, and we'd come with our thing. We were very fortunate to share the stage with Latin greats like Barretto, Puente, the Fania All-Stars, and rock the audience, then go to the Caribbean, South America, rock the audience. Go to Morocco with Randy Weston, Dexter Gordon, Max Roach, Odetta, and rock the audience." –Dr. Ric Wilson
Before Polydor acquired the King Records catalog and one Godfather of Soul, Mandrill was the newborn label's first "Black acquisition," though the band's hippie aesthetic and Carnival approach were more Bill Graham than JB. Masters of at least twenty-two instruments, they could break beats for days, their "sound" buttressed with ubiquitous percussion and fortified with a slew of horns, guitar, organ, clavinet, vibes, and strings; all this iced with political, feel-good lyrics. In a sense, they were the embodiment of world music before "world music" came to be; they were fusion minus the noodling and mullets, sampling and mashing-up genres the way hip-hop heads would do years later. The band's first two albums, Mandrill and Mandrill Is, were embraced by the experimental format of the nascent, White FM radio bandwidth and didn't truly plaster the Black music charts until they had found a White Jewish bassist named Fudgie and an eighteen-year-old, pint-sized rhythmic powerhouse named Neftali Santiago.
| | |
| --- | --- |
| Charlie Padro Drummer, writter "Mandrill" "Mandrill Is" | Bundie Cenac Bass player, writter "Mandrill". |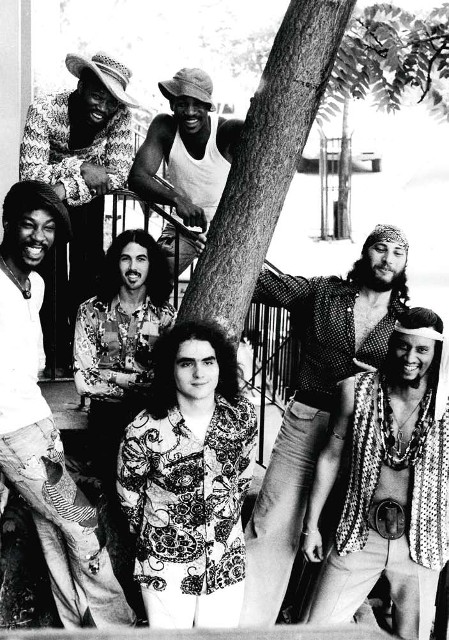 Fudgie Kae Solomon joins Mandrill on Bass, vocals, writting, "Mandrill Is". "Composite Truth", Just Outside Of Town", MandrillLand".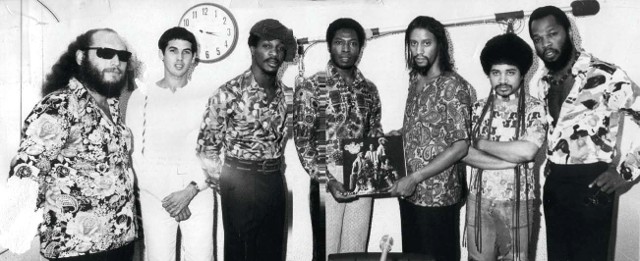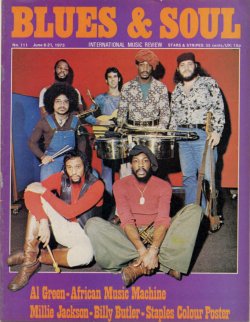 Neftali takes his first photo with Mandrill It was late 1972 at Electric Lady Land studio. photo taken just before recording the first song for "Composite Truth". "Composite Truth", "Just Outside Of Town", "MandrillLand", "The Greatest", We Are One", "New Worlds", "Energize", "Mandrill Live In Montreux 2002".
By their third and fourth releases—Composite Truth in '72 and Just Outside of Town in '73—the band reached a creative and commercial peak. The funk congealed on future classics such as "Fencewalk," "Mango Meat," and "Hang Loose," and got nuclear on the Nefti-penned "Two Sisters of Mystery," a song destined to provide, nearly two decades later, the heaviest sample in the history of hip-hop—P.E.'s "By the Time I Get to Arizona."
"I remember playing drums, and it used to make me uncomfortable [with] George Clinton and Maurice White sitting right in back of me, taking notes! Then all of a sudden, Earth, Wind and Fire gets a horn section, and Funkadelic starts adding percussion,
horns, and now they become Parliament, and it's like, hmmm, that's interesting." –Neftali Santiago
By the end of 1975, their Polydor run came to an end and the band's most successful lineup was completed with Doug Rodrigues on guitar and vocals. The line-up was done after Mandrill Land. The Wilsons and Coffee moved Mandrill to Los Angeles, signed with United Artists, then, later, Arista. Clearly wanting more disco-lypso than polyrhythmia, neither label, nor Los Angeles, it seemed, knew what to do with them. Mandrill (now joined by the fourth Wilson brother, Wilfredo aka "Wolf") watched their success slowly wane as groups like EWF and Parliament blasted off. And though they got involved with movies (Ali's The Greatest and The Warriors), Mandrill, still charting until 1980, finally burned out. They'd survived the '70s, churned out ten charting albums, made some nice coin, and had done, by anyone's standards, all right for themselves.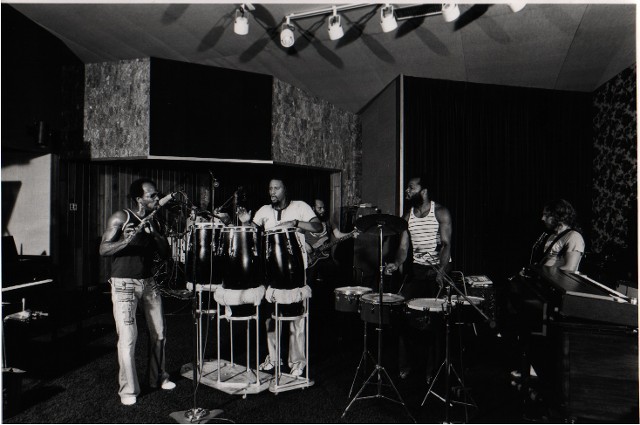 Carlos Coffee Fudgie Ric Doug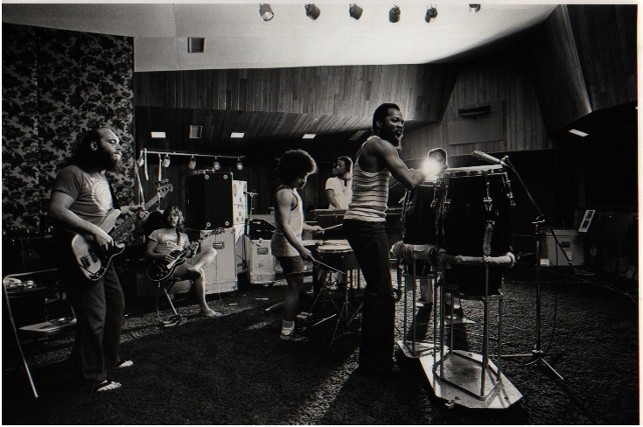 Fudgie Doug Nefty Coffee Ric
1975 Recording "Mandrill Land" at "Studio In The Country" in Louisiana.
CANAL TO CROOKLYN - Locks and Keys
"The combination of the percussive instruments and the funk was a Mandrill trademark," says Lou Wilson emphatically.
"That's where we coming from, the Caribbean, the Brooklyn, the funk; that's what makes Mandrill, Mandrill, and separates us from whomever else is out there." The Wilson brothers each separated from the preceding by two years reside on the West Coast, a decent clip from both the Bed-Stuy and Colón neighborhoods that gave birth to their "trademark." So does Claude Cave, who unrelated by blood but eventually a key ingredient to the Mandrill family also grew up in the same Brooklyn neighborhood, around the same time, unbeknownst to the brothers. "Coffee" a nickname he'd be given by the Wilsons years later also had Caribbean roots and discovered he was, like his mother, blessed with "the Big Ear."
Ric: We were born in Colón [Panama], on the Caribbean side. Very Rasta, but Spanish speaking. Our grandparents moved from the West Indies to Panama with the building of the Canal, as many folks did then. Panama is such a melting pot people from all over the Caribbean, Central and South America. Our grandparents were British West Indians, and our parents spoke English and Spanish in the home.
Lou: We lived in the Canal Zone the American side. Dad worked as a longshoreman, mom had a beauty parlor and sold comic books while frying hair: it was called Darcy's Beauty Salon. Colón was a rough place; we'd have to rumble often. I remember the first punch I got in my eye bam! I ran to my momma's beauty parlor: "If you don't beat him, I'm gonna beat you!"
Ric: Our parents believed in self-defense. We learned to box. It came in quite handy later on when we moved to Bedford-Stuyvesant, 'cause at the time we were going to school [in Brooklyn], gangs were rampant: the Chapmans, the Stonekillers, the Rebops. We were fortunate we were four brothers, 'cause we got into fights. I'd see a crowd of people, and there's my brother in the middle dukin' it out. He never lost a fight, nor did I. Lou: Well, I had to set the pace; I'm the older brother. That was back in the days of honor. No guns, maybe a blade or two. No drive-by type thing. Mano a mano. Ric: Eventually word got around: "Don't mess with the Wilson brothers."
Coffee: My earliest memories are of my mother playing the piano and singing, and I'm in her lap. My father was a doctor played the violin and took care of a number of musicians; one of his patients was Otis Blackwell, who wrote a lot of Elvis Presley hits. Ric: My dad had eleven sisters. He was high school educated, brilliant, but his parents died when he was fourteen, so he had to help support a big family. Dad played guitar, sang in local group; mom sang in choir, but as we got older, the Canal took up dad's life. Lou: Lot of their friends played calypso, pre-reggae Sparrow, Kitchener. My dad [also] played the tres and had a picture of Duke Ellington on his mirror on the bus he drove. He played jazz records, which we soaked up subconsciously in the crib. The Ink Spots, Fats Waller, the Mills Brothers a lot of jazz, man.
Ric: In Panama, there weren't many outlets in terms of college education; he didn't want us to hit the same dead end. Well, that's what they told us, anyway. They probably wanted to come to New York and party. [laughs] When we got off the boat…
Lou: October '53, ya heard? On the SS Honkon. Ric and myself came first. I was eleven, Ric nine. Then they brought the others. That cold was a shock!
Ric: We're leaving paradise, and the streets here are funky and cold. We're wondering, "What the hell are we doing here?" My uncle paved the way with his family, had a brownstone on Willoughby between Nostrand and Marcy Avenue. Beautiful area: rows of houses, mixture of workingclass folks, Black, Latino, Jewish, Irish. White flight hadn't taken place yet completely.
Coffee: Initially, we were the only Black family on the block. I was one of three kids of color in grades one through eight, but gradually Bed-Stuy became primarily Black. There were all kinds of people from the West Indies, India, China, Jewish grandmothers who'd escaped from Germany who'd put beach chairs out on the street. So, culturally, you got exposed. If windows were open, you'd hear calypso, Latin, classical, jazz, big band, this cacophony of sound; you'd feed on it. I'd actually ring someone's bell and ask, "What was that?"
Lou: Music was always in the air; some guys'd be playing stickball, some shooting dice, and some trying to get the latest song to harmony with their friends. Ahhh, the harmony groups. Funk and soul was just starting to be built off the backs of those folk. Ric: Mom expanded what she had in Panama. As kids, we used to sing together as the Wilson Brothers, and with mom being the beautician, she was in different clubs with women, and [when they'd] have programs, we'd be featured. We'd do a lot of pop gospel stuff like "Amazing Grace," and it would go over nicely.
Coffee: I displayed an affinity for the piano and started writing my own music at six. They took me to the conservatory where there were two pianos in the room. The instructor would play a melody, then I'd play it back; and he said, "He's ready." Now, for my parents, this was a cultural thing I wasn't gonna become a musician! I learned theory and harmony when I was nine, spent all my weekends and two nights a week at conservatory loved it, but I wasn't learning how to read. My big ear was a gift and a nemesis.
Ric: We'd go see Frankie Lymon and the Teenagers and others at the Brooklyn Paramount Theater. A good friend of ours, Richard Harris, had a group called the Jive Five, so we were [also] doo-woppin' on the street corner. Back in the day, schools had orchestras and provided instruments for the students, so when I started in P.S. 54, I wanted to play sax. Lots of calypso would always have a sax solo, but they didn't have sax, so I started on clarinet. Lou played trumpet from the beginning, Carlos was able to play trombone, and later Wolf played clarinet. We could bring our instruments home, practice. [Later,] Carlos and Lou were part of the all-city band.
Lou: I used to mind the band room mess with the tuba, the oboe, but the influence of Louis Armstrong was strong and the trumpet mouthpiece fit real nice.
Coffee: When I got in my teens, I started to hear things in my head involving more than just piano, like orchestras, big bands. I got transcription books of guys like Oscar Peterson who were playing beyond the speed of light. You'd look at the transcriptions, and it looked like someone'd taken a black brush and squished it across the page. This was improvisation that was transcripted. Then I started getting the records and realized sometimes the transcriptions were not accurate, 'cause I could hear what was going on and could see what was written, and some of it was not on the money. Then all of a sudden, I made a connection and realized, "They're breaking the rules." Then I got into listening to blues players, especially keyboard players, during that time when organ music was coming to the fore, when Bill Doggett, Wild Bill Davis, were grooving on the radio. After a while, I saw that the blues was in the jazz. [Eventually,] I had an opportunity to play an organ. What really interested me was you could instantly create the type of sound you wanted. It was the first synthesizer Robert Moog was probably still up at Columbia inventing the Moog. With the use of the Hammond drawbars, you instantly could create sounds that were or that aren't. And the Leslie speaker just allured me.
Ric: Sports were also big: Lou ran track, played basketball, I was captain of the football team, Carlos ran track, Wolf played football. Boys High School offered a full meal. After high school, we all went separate ways. I went to Harvard, Lou stayed in Brooklyn, Carl was in the Navy, and Wilfredo was at Morgan Street. Everyone was doin' their own thing.
Coffee: So I started forming bands, but at that time music was segmented. A jazz player didn't play Latin, a Latin player didn't play R&B, and an R&B cat didn't play straightahead blues. Eventually, I realized it would be fun finding the players to mix and match those elements. The other thing, because of the Caribbean influence, I got exposed to a lot of percussion Latin bands, salsa bands, steel drums so I also wanted to play drums. Ron Carter, who was a friend of the family, helped me get in touch with Charlie Persip, and he gave me a deeper understanding of the rhythmic thing. I taught my brother Curtis the drums, and eventually we started jamming together. Our house became sort of a music mecca: we had a grand piano, Hammond B-3, and a set of drums in the living room, and all these musicians would come by like Billy Cobham, Jerry Jemmott and jam. All kinds of young kids we were, literally, kids.
HEART OF THE BEAST
Ric Wilson class president, captain of the Boys High football team, and honor student followed a full scholarship to Harvard. Wanting to become a cardiologist, he majored in biology and worked under the cutting-edge organ transplant specialist Francis Moore. Involving himself in school politics and playing football for two years further reduced music to an afterthought. "I kept my sax under my bed," Ric recalls. "Once in a while, I'd pull out some Coltrane and mess around, blow." Carlos had gone off to the nightmare unfolding in Vietnam, patrolling up and down the Mekong Delta. Lou stayed in Brooklyn. The brothers were reunited, however, when medical school brought Ric back to Brooklyn in '66. "We were fortunate to be together in Brooklyn again," Ric says. "Lou had been writing songs, Carl had taught him- self how to play the guitar really well while in Vietnam had Wes Montgomery down pat had taught himself how to play flute, and then went to Mannes College of Music to get some classical training. So we'd mess around in clubs in the Village and at home, discovered that creatively we had a lot of things that felt good. We'd go to the Fillmore East at night, check out bands like the Who, Jethro Tull, and knew the instrumentation we wanted. We put together an initial group called Remedy, influenced by the fact I was in medical school, and played gigs around Brooklyn doing cover stuff. After that, we graduated to another level, called ourselves Will Power, had some serious musicians, and were booked by Norby Walters up and down the East Coast. The problem was I couldn't get away all the time and our drummer and bass player ended up leaving. Subsequently, my brothers and I put an ad in the Village Voice. This was around 1968, '69."
coffee: For many years, I was trying to get guys to incorporate R&B and Latin. I loved Santana. Greg Rollie made that Hammond sing. Phenomenal band, but they were missing the horns. I had an eighteen-piece band. Weldon Irvine, a good friend of mine, was another guy doing that. We'd go to Slugs, had these charts, and get this big band to play. Then I'd go out and play piano and vibes with Latin bands, be checking out the Fania guys, Pacheco, Harlow phenomenal musicians! I was also working at this after-hours club in Bed-Stuy, the Golden Arrow Social Club a legal, illegal joint, meaning things were "taken care of." At that time, clubs had to close at 4:00 A.M., so the game was you bought a membership card at the door. Bar, food, tables, big shaded green lights, cage for the stripper, bandstand, pool tables for shooting craps and card playing. After-hours places were always jumpin' and usually paid more than a regular gig. I was the bandleader. There'd be a full show: stripper, come- dian, music. The people that came through were a whole other breed. So one night, these two guys come in...
Lou: Carlos and I had been roaming around. I used to carry bongos on my shoulder in a case; Carl would have his flute. So we hear this music, walk down these stairs into this funky, funky club! There's a guitar player, bass, sax, and a guy playing Hammond B-3. He looked bored old folks grindin' out a shuffle. He was fallin' asleep and shit.
coffee: I was playing with some guys who'd played with the Ink Spots old-school guys. Smooth.
Lou: So when that song finished, Carl whispered to
Coffee, "You know Herbie Mann's 'Comin' Home, Baby'?"
Coffee sparked up. Carlos started, Coffee jumped in, I took out my bongos, and people were like, "Oh shit!" We told him we had put an ad in the Village Voice had cats coming from all over.
coffee: So then Carlos started calling me, but my plate was full. One night, I'm waiting for James Brown to come on TV which didn't happen often and the phone rings. "It's this guy Carlos Wilson, and he wants to talk to you about coming down to their rehearsal!" And I'm thinking, "What's wrong with this guy? Doesn't he know JB is about to come on television?!" [laughs]
Lou: We would have people call and say, "Where you located? Bed-Stuy? Never mind!"
Ric: People would see the address and never get out of the car. But it was cool; it brought the folks who were real, that had no fear.
coffee: Finally, I say okay. Went down with my brother to the beauty shop. Everything is set up between the dryers, in the stalls: amplifiers, drum kit lots goin' on. They run through some stuff, some Latin, calypso, rock, jazz, and I'm thinking, "Hey, this is it!" They were auditioning drummers that night, and it so happened the drummer that was selected was there, Charles Padro. So I joined the group.
Ric: Charlie Padro, Puerto Rican brother, looked Cau- casian, but he was down. Our first guitarist, Omar Mesa, from Cuba, was down. Our first bassist, Bundie Cenac, was from the Virgin Islands, and then Coffee. That was the group for our first album.
coffee: Omar was awesome into rock, jazz, Latin. Had that heavy, molten rock guitar sound. [His] job was computers, coming over from Hoboken in the day. Padro was in the Bronx, Bundie was local, so we jammed and jammed. Rehearsed really hard. I came down with my rented B-3, put it in one of the stalls, then brought down vibes, a Rhodes, eventually the clavinet, which I approached like a rhythm guitar to bolster the drive. Small shop; we barely fit. When we rehearsed, there'd be a mob outside. In the summer, it was brutally hot seven bodies crankin'. The heat had just dissipated from the hair dryers all day, and now we're crankin' up the amps, and Marshalls gen- erate heat! [laughs] The Wilsons brought a strong sense of solidarity, more so than other bands. We realized we had something special, and everyone was able to make a really powerful commitment. We determined we would rehearse at least five nights a week, six hours a night. We seriously woodshedded. Finally, we played some little gigs, some pic- nics, then we played a club in Brooklyn on Fulton Street called the Blue Coronet, famous in the jazz world, on the same circuit as Birdland.
Ric: We built a tremendous following there, sold it out, lines around the block. Beautiful thing about the Blue Coronet, people didn't come to dance; they came to listen, because it was a jazz club. Had us in a concert setting at a very early stage.
coffee: We created such a buzz, managers were finding the beauty shop in Bed-Stuy. In the meantime, we didn't
have a name.
Lou: One day, Charlie comes from the Bronx Zoo, says
he saw this animal called a mandrill. As soon as he said "man-drill," oh man, it felt right. We did some research, and we went to the zoo to see the mandrill.
Ric: Whose name happened to be Ringo. His face was mature mandrill, striking, very colorful.
Lou: With alpha males, the nose becomes very red during the season for the assault. They mourn the dead, very tight family structure, won't be intimidated. It was just so befitting and incredible how much we looked like man- drill, and it looked like us.
Ric: The name just stuck.
RECORD DEAL
The band's first major gig would be performing with the late, great Oscar Brown Jr. at the elegant Brooklyn Acad- emy of Music, exposing them not only to thousands of new listeners but also one Beau Ray Fleming, a music biz veteran who would get the band some play in front of record execs. "He said, 'I can get you a demo showcase,'" explains Coffee. "So we went to Columbia's studio in Manhattan it had been a church where Miles had made Kind of Blue. It was like going to Mecca. We were ready to hit it. It was intense. We'd been knocking people out all over New York and were on a mission. So we do five songs, no overdubs. It was our live set with the kinks worked out, which essentially became our first album, Mandrill. We'd go from a Latin feel to a gospel feel to a rock feel in the same song. I used a wah-wah pedal rigged up through the organ and reverb; the system engineers went crazy. They cut an acetate, and, for some reason, Columbia slept on it. So Beau went up to Chess Records, goes into the bathroom, and a guy name Esmond Edwards comes in, asks him about the acetate he's got under his arm, says to wait, don't waste it on Chess, that he's leaving Chess to be A&R over at a new label, Polydor, [and] to bring it over there. Now, Polydor was owned by Deutsche Grammophon, who were known for their fidelity, for virtually no hiss on their classical music records. Jerry Schoenbaum, Polydor's president, hears the acetate, takes it to Fire Island with his lady for the weekend, Monday calls up Beau: 'I want to sign them now!' In the meantime, Beau sets up a showcase for us at Small's Paradise packed with industry people, and we blow everyone away," Coffee says. "Now it's on! Ahmet Ertegun wants to get us; Epic, CBS, Buddah."
Ric: We sign a deal with Polydor, then hit Electric Ladyland Studios, which is where we record our first three albums. Electric Ladyland was a trip in itself, in the Vil- lage. You went downstairs into the bowels of the earth, and a whole new world opened up. The walls were electric reminded me of the cover Bitches Brew; you totally got lost. And to boot, we'd be coming in when Stevie Wonder or Jimi Hendrix was leaving and vice versa. We even talked with Jimi about collaborating, but he went to Europe on tour and never returned.
coffee: Clive Davis, who worked for CBS, wrote in Billboard that two of the great things in the future were Bruce Springsteen and Mandrill; this, even though we'd signed to Polydor! First song that broke was "Mandrill." First song out the box you gotta come out hard, so Charlie said, "Man, I'm getting a gong." Bands didn't have gongs! Mandrill set a regional record for sales: fifty thousand albums in a month. Took FM radio by storm. Played on stations that played King Crimson, Led Zep, Paul Butterfield, White acts. See, radio was still segregated. On AM, R&B, gospel, and Latin was on the right side of the dial. Sinatra to the left. Frankie Crocker, the man in New York, loved our record and started to play it, and it became like the national anthem.
Ric: Mandrill blew up faster than most groups blow up. We didn't pay the kind of dues like a lot of guys working the chitlin circuit for ten years. Mandrill was a breakout album in New York, to the point where Sony had Mandrill do the first quadraphonic radio broadcast out of the Village Gate. And we were more international than we realized, 'cause Deutsche Grammophon was the largest label in the world. Our records were getting to all parts of the globe; [when] traveling to different places, our reputation preceded us. But see, we were signed before I finished med school in 1970. And it was during my internship in '71, we did the Fillmore West with Miles. I couldn't get time off from the hospital, had to commute to San Francisco every day for one week. A limo would meet me after I made rounds, go to the airport, a limo would pick me up in San Francisco, head to the Fill- more, play the gig, get back in limo, sleep on the plane, make rounds. [laughs] That's when I said, if I continue like this, I'm gonna be dead. "Lemme take some time off and do it right, earn millions of dollars, come back, set up my clinic and keep on rollin'." [Is that what happened?] No! [laughs]
coffee: Bundie left to sell Porsches. He thought, as a band, we'd topped out. Charlie left to pursue film. So Fudgie joined on bass for Mandrill Is, then Nefti joined for Composite Truth. That became the Mandrill lineup. It was crazy; between us, we could play twenty-two instruments. Carlos and I would write strings, horn, and vocal harmo- nies, and conduct. His approach to playing, his concept of rhythm, are not of this planet. Nobody had as keen a rhyth- mic ability, and this band was based around rhythm. Carlos was a powerhouse. Flute was his favorite instrument, but he was also playing formidable rhythm guitar, some guitar solos, great on trombone one of those guys; just give him an instrument, and he can play it. One of the most gifted people I've ever met.
Ric: Bundie was a young kid, full of himself, big Afro, very cool player technically, lot of energy, speed and all that, but Fudgie laid it down. Fudgie, aka Fred Solomon, a White Jewish guy from the Bronx. [laughs] Nothing flustered him. Had experience on upright and electric, went places that your standard R&B bass player couldn't. A little behind but funky. Listen to his breakdown on "Ape Is High."
coffee: Charlie said, "I got the guy: Fudgie Kae from the Bronx!" Bronx was a hotbed for bass players at the time. So he jammed with us righteous right off the bat! He could handle anything. We showed him how to play salsa; he played like he was born with it. Sensitive, lyrical, easygoing. When you played with him, you were inspired.
He played a Fender Sunburst and used acoustic bass cabinets. Bundie was more of a speed merchant. But it's not how fast you play, but what you play, and as you mature, it's not what you play, but what you don't play. Now, I'm not sure how Fudgie got his nickname, but he was monstrous. Ron Carter heard him and was impressed. George Clinton and Bootsy used to stand and watch us, as did Maurice White; I could see the camera goin' off in his mind. [laughs]

Nefti: Fudgie's so underrated. He played a very physical bass. His hands were extremely strong, but he made it sound like butter. It was scary playing with Fudgie.

COMPOSITE COMPLETE

"And then Neftali," says Coffee, "plays with his entire body. Some guys, it's all wrist and arms, but Nefti plays with body and soul. The pocket is unbelievable with him." True, before Neftali Santiago, Mandrill knew all about the pocket. With him, the pocket just got real stanky. Born in Spanish Harlem, raised outside of Philadelphia, Santiago brought youth, a mean 'fro, a poppin' snare, and some serious grease, which would not only help propel Composite Truth up the charts but also provide a stylistic blueprint for a future Philly

drummer's quest for non-sampled love some years later.

Nefti: My dad's Puerto Rican; my mom's Black, Ameri- can Indian, and Scottish. My mom was a 45 freak: Beatles, Sinatra, Otis, Aretha turntable going all the time in our house. My brother played guitar in a band; they'd leave equipment at the house, and I just started playing. When I was twelve, I went on Ted Mack was like a Star Search. Then in '70, I started backing people on the chitlin circuit folks like the Manhattans, Barbara Mason, the Delfonics. That's when I really learned dynamics. Those hits on all their steps if you're not right there with them, they would yell at you! We'd play five nights a week. Buddy Miles was my favorite drummer. I was sixteen, had a mustache, big 'fro, so I could get into clubs. I was such a bad student, tired all the time, was in the tenth grade for three years. But I had the lime green pants with the green socks, platform shoes, all the killer clothes, 'cause I was making money! Mandrill weren't only my favorite band, they were every one's favorite around Jersey, New York. When Mandrill hit, it was like a fire went off. Yeah, you could see the Santana relationship, you could hear the Chambers Brothers and Chicago, but Mandrill were playing it all in one set. So they came to Philly toward the end of '72 to play the Spectrum

with War opening. I got backstage and said to Carlos, "I'm

gonna be your next drummer; you guys need me." Now, they didn't tell me Charlie just quit the band. This was a Friday night. Tuesday, I kid you not, the phone rang, "Kid, you've got an audition." I go to New York City, line up with thirty guys; it came down to me and Dennis Davis, who went on to David Bowie. They told me, "You're the drum- mer, but you're really young."

Ric: Neftali was a tremendous drummer. Charlie played on or ahead of the tempo, more rock and jazz, whereas Neftali stayed in the pocket, like Fudgie, a little behind but on it. Their combination was awesome. And he produced stuff like the rhythm behind "Fencewalk." Even though Carlos told Neftali what to play, he was able to manifest it it's one of the funkiest drumbeats in R&B music which was no easy feat.

Nefti: We go into Electric Ladyland, whoa, I've never been in a studio before! I didn't know about overdubs, so I figured out how to play all these rhythms. Then I had to travel for thirty dates before they even let me play, just to get used to being on the road. I wasn't used to flying, getting sick a lot. Padro was still drumming. He was great about it. My first gig was in Hershey, Pennsylvania, with Deep Purple and Elf. Ten thousand people. I wanted to play my drums, which were from Sears had orange contact paper on them, looked like a Dreamsicle. [I] had them tuned just like Buddy's. But I had to play Charlie's, and my first drum solo, the bass drum slid off the stage. We played a lot of Southern towns for all-White audiences with bands like Savoy Brown, Status Quo. You could smell the prejudice, but we were received really well. Then Black people started catching on when Composite Truth hit the radio, and we played Black colleges and the big festivals.

coffee: Finally, we got promoted on the Black side, and our music exploded.

Lou: They used that word "crossover," you know. What ever!

Ric: It started to change, 'cause of radio play and the promotional direction of the record company. Polydor had just acquired James Brown's catalog and was able to get Mandrill promoted on Black stations throughout the country. Only problem was they forgot to keep promoting us on the White rock stations! [laughs] We were selling out a lot of colleges, arenas, and the [Funkadelics] were touring with us on a bus. Must've done a hundred shows with them. Lots of jamming and craziness! Lou always traveled with a bunch of paint used to paint his face Mandrill colors.
Funkadelics didn't necessarily have a heavy wardrobe back in the day; a lot of the time, they'd just take Holiday Inn sheets and towels and that would be their attire. George would take the sheet, put a hole in it, put Lou's paint all over and come out onstage.
Coffee: With nothing on underneath, he'd go to the foot of the stage and drop the sheet over people's heads. The Funks the Parliament-Funkadelics. Loved them. They had an entourage, a cast of thousands coming in from all over the country. They would just converge on the gig.
Lou: There was a time when we were smoking, '72, '73,[and] word was headliners didn't want to go out with us.We just did what we had in the box. The variety was natural; this is what we know! Never did covers, just originals. Coming from Mama Africa right out of the box, created a Carnival atmosphere.
Nefti: Mandrill had no problem opening for no one. Even James Brown at Madison Square Garden. But we didn't need to; we'd already been there four times on our own, sold it out you're talking Mandrill town, New York City. You should have brought JB in by himself! So we're jamming, and James was getting really mad. Next thing we know, we're playing off of monitors. Our road manager picks up the cord and shows us it's cut, and then James's road manager gets a gun and cuts the monitors, so we're playing just instruments. But we kept getting standing ovations.
Ric: Another highlight was when we played Philharmonic Hall in '73 with the Symphony of the New World with an eighty-piece orchestra and 200-voice chorus. Was recorded by the BBC and broadcast behind the Iron Curtain via the Voice of America.
Coffee: So many fantastic dates. One hundred fifty thousand people in Fairmont Park in Philly people as far as the eye could see. Mandrill was huge in DC. We were advertised as headliners at RFK stadium: 80,000 people. Two babies were born during the concert!
Ric: The Funks, War; Earth, Wind and Fire it was beautiful to share a stage with all these guys and hear one group after another. Tremendous to be out in a sea of faces, peaceful, fun-loving. Occasionally, there'd be a riot.
Nefti: Something about getting a bunch of Black people together in the hot summertime: stuff happens. And stuff did happen. One concert we did with Sly at the Spectrum, I watched all these people dropping in a circle, and then I saw a guy with a butcher knife stabbing people. And then sometimes, promoters tried to cut corners. Like at Randall's Island, summer of '73. Forty thousand people, one way in, one way out. Mandrill was headlining. We show up and find out there's this itty-bitty sound system, and nobody can hear anything. Didn't have the security for it either. Funkadelic went on for a half hour, the crowd rushed the stage, stole their equipment, beat up the vendors. Next up was Rare Earth. The stadium is oval shaped, with the backstage in the middle, so you have to drive to the stage. Rare Earth had a VW bus, didn't even make it to the stage; people just overturned it. They ran back to the dressing rooms. Chaka Khan says, "I'm not going out." Buddy Miles says, "I'm not going out either." By that time, the chief of police says to us, "Look, if you guys don't go on, I don't have enough police to cover this riot."
Coffee: These people were goin' nuts! If we go on, and the sound's not right, there's gonna be a riot, but if we don't go on, there's gonna be a riot! So we got up to the stage, lights come up, and I realize immediately there's a mob of people behind me, around the Leslie, the equipment, just standing. I go to start to play and can't step forward look around and this chick has her hand down my pants on my ass! So I gently pull her hand out, start to play, and the whole system, sound, lights, everything, just dies. Could only hear a cowbell.
Nefti: Then somebody threw a bottle at my face. I had a boom [mic] right in front of me a bottle just splattered. I played barefoot, so I went to pick up my platform shoes, and they'd already started taking stuff. I look up, and there goes the band. They'd forgot me. And now I'm in the hands of the fans.
Coffee: All of sudden, I see this mass of humanity pouring out of stands, coming towards us. Now it's an all out run, a dead heat. I didn't know where anybody was, so I dove underneath this trailer, looking at feet go by, then realize someone's next to me. It's this guy who'd grown up across the street from me and now was a policeman. He'd just come to see the show. I'm like, "Richard? Is that you?" So we stayed there and caught up; it was just surreal.
Nefti: Two girls tried to take my scarf around my neck and were choking me. Others were pulling out chunks of my hair. I'm all ripped up like the Hulk, just humiliated. Cops are doin' their tear gas thing. I get to the dressing room, had no clothes. That night we fly to California to do Soul Train the next day. So that's why I'm wearing Carlos's clothes and shoes for that.
Coffee: The promoter tried to short us on the deal, so I impounded the tickets, put these huge bags of ticket stubs in my mother's living room.
Nefti: Mandrill headlined most of those funk festivals, but War; Earth, Wind and Fire these bands had hits. Yet when it came to the box office, Mandrill was the big-ticket draw, and promoters knew that. And it was a problem. War, they'd pull a "Hey, our record's number one; we're headlining."But we'd say, "Well, the contract says Mandrill's the headliner." The people would suffer, 'cause an hour would go by, and no one's onstage. Finally, [we] took the stage and War never did that again, 'cause with their energy, people would walk out on them. They slowed their songs down,'cause they didn't want to compete with that Mandrill energy, and you can quote me on that!
Lou: Let me say this: every group we played with was significantly influenced by us. I'm not trying to blow any horns here, but go back to when we first started, to the groups that were happening around 1970. Santana: had percussion, guitar, Hammond, but no horns; Sly: had horns, didn't have percussion; Chicago: had horns, no percussion; Earth,Wind and Fire: didn't have horns and had a paucity of percussion I mean, Maurice always had that timbale but no wall of percussion like Mandrill from the get-go. And the Funkadelics: maybe one conga and a bell, no horns. After a number of these groups left playing alongside Mandrill,the horns and percussion became significant parts of theirpresentation. Even Motown, as big as Motown was, [if] you listen to Motown, you didn't hear a lot of percussion. R&B and percussion didn't go together! Today, it's commonplace.
DISCO'S TAMING OF THE BEAST
By 1974, Mandrill was again a different band. Mesa, a dis- ciple of guru Sri Chinmoy, apparently disagreed with the abundance of women and drugs in the band's circle and left. Betty Davis/Santana/Voices of East Harlem vet Doug Rodrigues took his chair for the double LP, Mandrilland, an eclectic release recorded in the swamps of Louisiana. Soon, Nefti Santiago, tired of the road, drugs, and the Wilson's tightening grip on the band, also left, but would come and go over the years. "Mandrill was a democracy in the begin- ning," Nefti says. "We all had a song on each record. But the brothers kind of did us wrong on Mandrilland. Went back in the studio, didn't tell us. The Wilson brothers are famous for that, I hate to say it. But, you see, I love the music enough to overlook that kind of stuff, 'cause I'd rather still be a part of the culture and a part of the whole legacy. And then there was the road life, going from city to city to city wake up sometimes and not even know where I was. Now, you could do a couple of different things to deal with the ups and downs of the whole thing. Fudgie's drug of choice was heroin; he chose to deal that way, and eventu- ally [it] took him out.2 Others' was cocaine, THC, hallucinogens. All these excuses were made for Sly, for Mandrill, for why you didn't show up. Last time we played the Spectrum, we headlined over Sly a big deal Bobby Womack was opening. Well, Carlos and I missed the plane, couldn't get to the show on time, and we never played the Spectrum again. That was around '75. That's when things started kind of folding."
coffee: War left United Artists for LA X Records, so UA needed someone to fill their spot. We moved to L.A., did Beast from the East and Solid. Decent albums, but UA was slowly imploding. We couldn't get out of there fast enough. So we were looking for another label. A bidding war ensued with mega-offers I was shocked at the numbers including Philly International, Capitol, CBS, who said, "We'll let you produce Sly Stone" (they couldn't get him in the studio), and I said, "Uh, I'll Pasadena, thanks." We signed as artists and producers with Clive Davis and Arista, who had told me, "When I didn't sign you before, I went after Earth, Wind and Fire and signed them. I think I did all right!" [laughs] So we put out a couple of albums with them, but I just got burnt out. Focused on scoring commer- cials, movies, which I still do.
Nefti: Mandrill got caught up in: "Do we stay Mandrill, or do we start writing disco songs?" The band started writ- ing disco songs, moved to the West Coast. Wait, Beast from the East moves West? The whole rhythm section changed Fudgie didn't go changed the sound of the band. Now you see what the Wilson brothers sound like on their own.
Ric: We could see the changes coming. Listening to radio, you could hear the changes. We were resisting that. When we played live, our folks loved what we did, so we didn't feel we needed to get caught up in that, but the chal- lenge, as the challenge is today, was to get the music that you recorded heard on the radio. It's never the people; once you expose them to the shit, they will appreciate it. That's the crux of the matter, and today that's what we're dealing with. We've come full circle in a way, like we're living in a disco era where the good shit isn't being played. Have a consultant from Scarsdale coming to Harlem to tell the DJ what he should play? C'mon. Thank God the Internet has opened up the situation for new artists and old that aren't necessarily kowtowing, and that's how it needs to be.
Lou: It allows the people to enjoy variety, as in the '70s. Every group that came out rose above the din, had something to say, man.
Written By: Matt Rogers